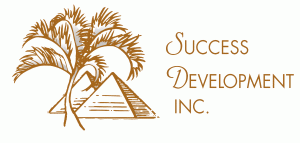 Success Development, Inc. is an established one-stop resource for individuals and organizations seeking to increase the developmental growth of themselves and/or of their employees. Whether you are looking for coaching, consulting, speaking or training products and/or services, we have the "resources" to fulfill your needs. Vivian Wright-Defrees, CEO of Success Development, along with our resource team, have created a progressive and aggressive company capable of putting the latest development products and resources in place for our clients.
Our secret of success for more than 20 years,
"One Size DOESN'T fit all."
YOU MAY NEED:
A one-day, stand-alone training program;
A two to three year curriculum;
One-on-one coaching;
A "train-the-trainer" series;
Another of our products or services; or
Something very unique just for you.
To meet your needs, we start by defining your needs and creating the developmental "roadmap" to satisfy these needs. Then we assemble a team of Providers with proven experience in the identified areas. These people are professionals with excellent credentials and years of experience in the business development environment, individual growth and adult learning.
The advantage for you and your organization? A custom fit of experience and background with the developmental needs and objectives of your project.